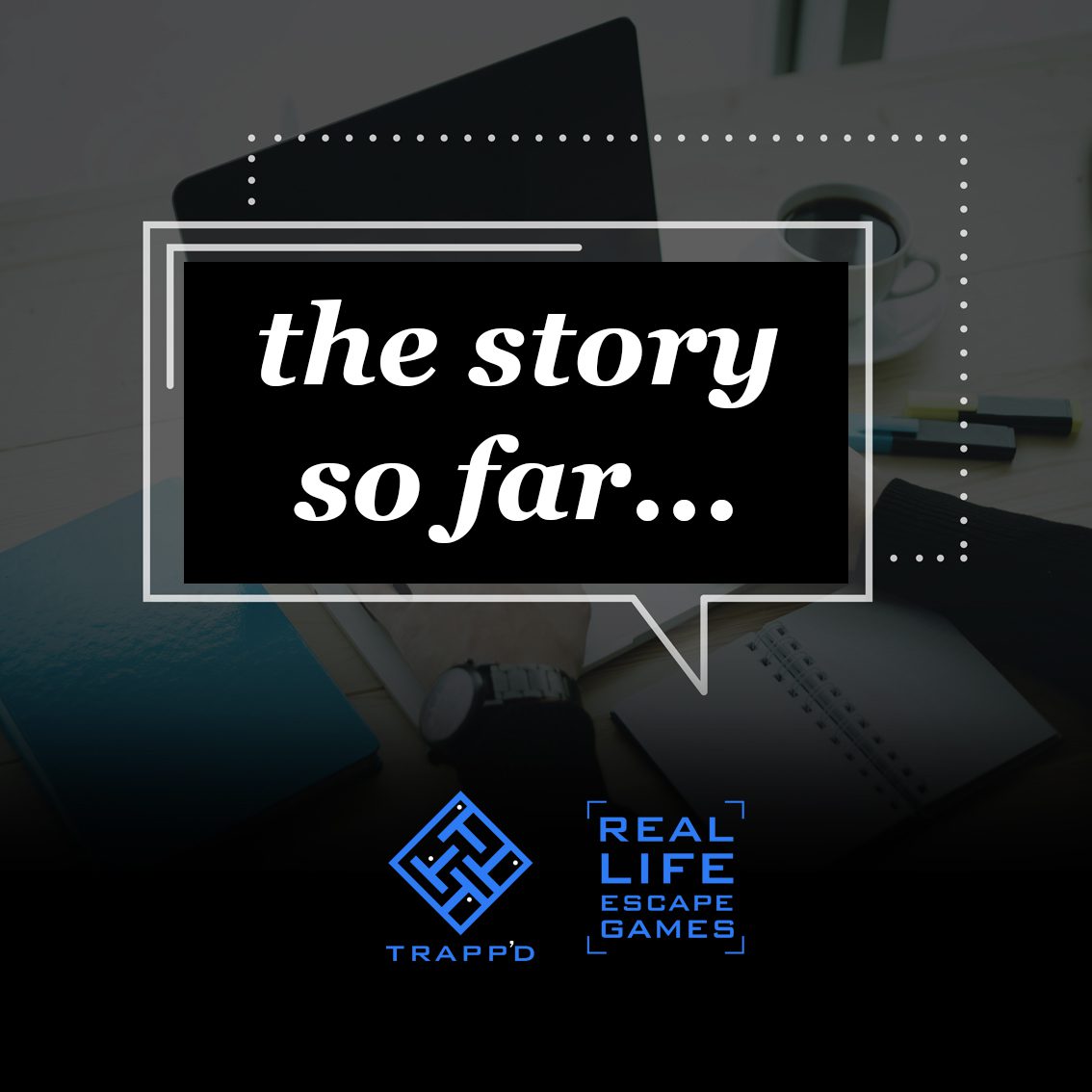 Have you ever fancied yourself as a dragon slayer?  Or maybe even as an explorer in the depths of the jungle?  Fed up of staring at the same four walls?  Well, at Trapp'd you could make your fantasy a reality!

My name is Hope and I am a Games Master at Trapp'd Real Life Escape Rooms.  "What's a Games Master?" I hear you cry!  Well, my job is to watch and listen to you, our customers, at all times whilst you complete one our unique escape room experiences.  I realise that sounds very strange, maybe even a little creepy… but I promise I am here to help and give you a friendly nudge in the right direction with any hints you might need to successfully escape.  There's absolutely no shame in asking for a bit of help either, even us Games Masters need clues from time to time when attempting a puzzle (although we're a very stubborn breed and don't like to admit it!).  However, before visiting one of our branches and meeting your cheery Games Master, you'll first need to know what you're letting yourself in for!
For those of you who are yet to visit us, there is nothing to fear; unlike the films of the same name, escape rooms really aren't life or death situations.  We consider each of our experiences to be a unique and immersive adventure with the purpose of getting your brain working and making sure you have fun!  With a minimum of two and a maximum of six players in your group, you will need to complete a series of brainteasers and challenges within a 60 minute timeframe to grant yourselves freedom.  If you've ever seen the Channel 4 show Crystal Maze before, you may have a vague idea of what to expect… Some of these puzzles will be cryptic, others more physically based and a good deal will be downright challenging!  But the sense of pride and achievement you'll feel as you complete each stage provides an intense thrill.  So I suppose the next question is: which of our incredible rooms would you like to immerse yourself in first?
OUR ROOMS:
Abigail – Hallow's House has always been an infamously haunted spot, with multiple disappearances and ghost sightings being reported on the site since the 1940s and, perhaps more harrowingly, since the death of young Abigail.  Being the thrill seekers you are, you and your pals enter the estate on Halloween night in the hopes of encountering a spirit or two.  Safe to say, you get more than you bargained for…
KETTERING BRANCH ONLY
Atlantis – The Lost City – spending eight years on a submarine would send most people into madness, but you and your crew are more determined than ever to plummet to the ocean's surface and prevent the raising of Atlantis before Poseidon exacts his revenge and destroys the world.
WELLINGBOROUGH BRANCH ONLY
 Cartel: Maine State Prison – now out of your cell and into the threatening halls of the prison, you must use all of your street smarts and cunning to make it to your outside contact and complete the next part of your jailbreak: evading the Kingpin.
CORBY BRANCH ONLY
Dead Man's Cove – Being isolated and imprisoned below deck for a lengthy seven years hasn't exactly been a barrel of laughs, but overhearing the drunken sailors' plans gives you a renewed sense of purpose: to escape imprisonment and steal the precious pearl from the shores of the mysterious Dead Man's Cove.  This complicated feat has been made all the easier, due to a storm leaving only one survivor on board – the maniacal Captain Storm Jackson.  Will you achieve freedom, pillage the bay and escape on your raft before the Captain beats you to it?
KETTERING & STOCKPORT BRANCHES ONLY
Dead on Arrival – the insane surgeon and famed black market dealer Doctor Laird has captured you and your gang with the nefarious intention to dissect and harvest your organs… will you escape in one piece?
BILLING AQUADROME BRANCH ONLY
The End of the Line – one last heist and your crew are out of the train robbing game for good.  Can you successfully break into the vault, stop the train and steal the gold before the cops catch up to you?  One thing's for sure: you'll be leaving the train in luxury or handcuffs.
NORTHAMPTON BRANCH ONLY
Exordium – the year is 2061.  As interplanetary explorers, you have seen the wonders of the universe: extra-terrestrial matter swirling into black holes of oblivion, dwarf stars imploding with a thunderous tremor.  However, nothing could've prepared you for Earth's catastrophic demise.  Will you and your crew of space cadets use your astronomic knowhow and teamwork to retrieve the imperative Tetrahedron, reverse the devastating effects of climate change and restore life back to your home planet?
BILLING AQUADROME BRANCH ONLY
The Forsaken – having lost your friend Esme to a frightening Satanic cult, those of you remaining will need to escape through the catacombs and worship halls of an Anti-Christ church, then avoid detection and save your friend from becoming a sacrifice to the High Priest.
WELLINGBOROUGH BRANCH ONLY
46 Below – So that flight to the Bahamas didn't quite go as expected… after severe turbulence and a terrifying ordeal, you and your fellow holiday goers have crash landed in the middle of a bitter blizzard.  You're only chance of rescue?  Accessing an abandoned radio transmission station and sending a desperate S.O.S signal to passing planes overhead before hyperthermia sets in.
BILLING AQUADROME BRANCH ONLY
The Legend of Drakon – the village of Drakon has been cursed ever since a haggard and vengeful witch cursed the citadel's royal goblet and hid it in the lair of an imposing and terrifying dragon.  As Knights of the Realm, you and your army of courageous adventurers will have to slay the dragon and restore tranquillity to your medieval community.
WELLINGBOROUGH BRANCH ONLY
The Lost Temple of Yumiko – having spent a number of months on an archaeological expedition in the deep, dark depths of the jungle, your crew will need to raid the temple and obtain the chalice of everlasting life if you hope to leave anytime soon…
NORTHAMPTON BRANCH ONLY
Madam Curio's Cirque Delirium – the mystery of Madam Curio's carnival tent is not one you wish to solve, but one you find yourself powerless to resist… let's hope can you find a way to escape the insane sage's circus before she enslaves your mind!
PETERBOROUGH BRANCH ONLY
Motel – Dilapidated, desolate and disastrous, this motel has seen better days.  Contemplating other accommodation, your other guests decide you've journeyed far and wide enough to get here, so you settle in for what you hope will be an uneventful night of rest and relaxation.  Struggling to sleep, you sense an uneasy presence on these grounds.  Nothing feels right, and the unusual, eerie manager at reception has only heightened your fears.  A memory suddenly flashes across your mind: the very same man featured in a documentary you were watching just days earlier and is a famed serial killer.  Ditching your belongings and heading for your room door, you realise the sadistic man has deadlocked it from the outside… will you escape the Motel before becoming his next victim?
STOCKPORT BRANCH ONLY
The Outlaws of Red Rock – you are a member of the notorious group of miscreants, The Rockboar Syndicate.  Having finally been caught, you sit in your prison cell, awaiting your impending hanging.  However, your minds can't help but imagine one last job before your final sunset.  Whilst the guard is distracted, you set your plan into motion: burrow out of jail, rob the bank, steal the town's prized jewel and make the last train all in 60 minutes.  Let's hope you manage it before the Sheriff catches up to you!
PETERBOROUGH BRANCH ONLY
Road to Glory – you and your squad have proven yourselves to be a formidable force in the beautiful game, impressing every opponent who has been unlucky enough to lose to your impressive skills.  Now is your biggest game yet: captaining the World Cup team.  The eyes of the world are focussed firmly on you during this match… no pressure.
BILLING AQUADROME BRANCH ONLY
Salem – a weekend break with your friends in a cabin in New England sounded like bliss, but little did you know that all of the witchcraft, myths and horrors this place is fabled for were all true.  Can you escape Marjory Sutton's evil enchantments, destroy the book of the damned and save your souls before time runs out?
LEEDS BRANCH ONLY
The Tormentor – No game has ever been this important.  You and your group will need to solve a selection of sick riddles, bargain for your lives and exit the Tormentor's disturbing torture chamber before the final countdown…
CORBY BRANCH ONLY
Victor Frankenstein's Reanimation – admiring and analysing Doctor Frankenstein's research has all been building to this… tonight's the night: you and the other members of your scientific research group will be reanimating a long passed corpse, providing you can perfect the formula for life with one crucial lightning strike.
CORBY & LEEDS BRANCHES ONLY
VX 2.0 – in a decade not too far from our own, you and your team of covert spies are readying yourselves for a top secret and possibly life threatening mission.  Using your training and stealthy spy gear, you will need to retrieve the lethal chemical concoction known as "VX 2.0" from an underground Russian war base and return it to the UK Special Forces in order to prevent the potential annihilation of humanity.
KETTERING & LEEDS BRANCHES ONLY
Sound up your alley?  Well, what are you waiting for?!  Don't delay – book your adventure today!